Brace yourselves, Winter is coming
With winter, most people think of snow and cold. Well, that is true, but people are not the only ones that are thinking about it. Animals would also like a nice warm place to wait out the winter and for most animals that place might also be your place. As the weather gets colder animals start to look for different places to hold up for the winter, and a heated home works just as good for them as a burrow or nest would. Though while removing unwanted animals with the help of Animal Trackers is always an option, the same people can help you make sure that they don't get inside in the first place.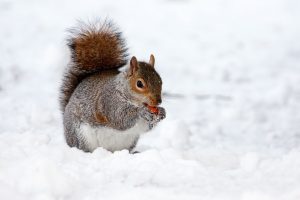 Winter Animal Protection Tips
Look for Problems – Examining your property is the first line of defense. Common signs of animal entry are broken or damaged vents, holes or chewing on the facia or soffits, missing or broken shingles, trails in the snow leading to burrows under sheds or decks and other animal evidence. Tracks in the snow will tell you what animal made them and where they went. if these tracks lead to your house, then look closer to see if the animals are getting in anywhere. Make sure your window wells are secured and safe. A high-quality window well cover can prevent children and pets as well as animals from getting trapped or injured.
Food- Food sources are scarce during the winter, therefore making your garbage can a wonderful place to shop for groceries. Lock the garbage can lid or placing the cans inside the garage can prevent these animals from getting a free meal. Feeding the birds can also contribute to having nuisance animals on your property every day. While feeding the birds can be rewarding, it can also attract nuisance animals.
Removing Clutter from around the house- Animals like opossums, skunks, and raccoons will many times live in human debris left outside. Things like brush piles, patio furniture covers, appliances, children's toys may be used as winter dens. Performing a good fall cleanup before the snow and ice come will make these items too difficult to turn into a den for animals.
Talk to a specialist- Animal Trackers can do interior and exterior inspections to locate active problems and potential problem areas. Call us today to let us help you with our many years of experience solving animal problems.